There are 28 walks, four each day, with varying degrees of difficulty and terrain. Some are accessible for wheelchair users.
This year's brochure is available online by clicking on this picture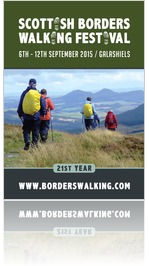 or contact us if you would like a paper copy

All walks start and finish at Focus Centre, Livingstone Place, Galashiels, TD1 1DQ unless otherwise stated
Tickets are priced from £3 to £9 depending on the need for transport and other incidentals.
Booking from the daily walk pages is by borderevents online or by telephone.
There will also be evening events to entertain both visiting walkers and local people – click here to see the events
 You will pass Torwoodlee Tower on walk 1.3 and view the Eildon hills from the Roger Quin memorial stone on walk 4.4
To see details of each walk and book your place, click on the link
Sunday 6 September
1.1 Oxton to Gala via Girthgate
22km/13.5mls
1.2 Lauder to Gala
22km/13.5mls
1.3  Two Towers, Buckholm and Torwoodlee
13km/8mls
1.4  Eildon to Bowden village
4.03km /2.5mls
Monday 7 September
2.1 Traquair to Galashiels along the Southern Upland Way
21km/13mls
2.2 Earlston Black Hill and Circular
14km/8.4mls
2.3 Buckholm Tower, Ladhope, Langlee Woods. SEStran
7.4km/4.5mls
2.4 The Waterways of Galashiels town. SEStran
4km/2.5 miles
Affiliated walk – Old Melrose
3km/2mls
Tuesday 8 September
3.1 Gala's Hills
19km/12mls
3.2 Borders Abbeys Way (Selkirk to Galashiels)
16km/10mls
3.3 Rhymer's Glen and Abbotsford
11km/6.75mls
3.4 Gala Policies Easy Access
2km/1ml
Wednesday 9 September
4.1 The Three Lochs
16.9km/10.5mls
4.2 Hollybush Circular. SEStran
9km/5.5mls
4.3 Neidpath, Yair and Glenkinnon
14km/8.5mls
Click here for more information and to book this walk
4.4 The Saunter of the poet Roger Quin
4km/2.5 miles
Affiliated walk – Bowhill – Sorry, this walk has been cancelled by Bowhill due to unforeseen circumstances
6km/4mls
Thursday 10 September 
5.1 Blackhaugh to Stow over Scroof Hill
14.5km/9mls
5.2 Torwoodlee Circular, Galashiels
17.5km/11mls
5.3 Yarrowford and Minchmoor
12km/7.5 mls
5.4 The Fishermans Walk. SEStran
9km/5.5mls
Affiliated walk – The Roman Way
6km/4mls
Friday 11 September
6.1 Ettrick Head Horseshoe
13km/8mls
6.2 Eildons
14.5km/9mls
6.3 Stow to Gala
16km/10mls
6.4 Galashiels to Gunknowe Loch
3km/2mls
Saturday 12 September
7.1 Craig Douglas to Loch Eddy Circular
16km/10mls
7.2 Selkirk to Caddonfoot via Tibbies and Three Brethren
16km/10mls
7.3 Philiphaugh Circular and Salmon Leap
7.25km/4.5mls
7.4 Abbotsford
5km/3.5mls