The 21st Festival, a week long celebration of walking and the Borders countryside was hosted by Galashiels from 6th to 12th September and was a great success with 205 people taking part in 487 walks
From 4th to 11th September 2016 the hosts will be Coldstream. Watch this space for more information
This year's brochure is still available online by clicking on the picture below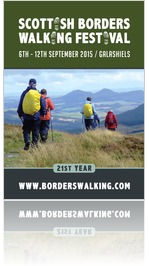 Gala Water shall not hold me –
Tho' its mem'ries fair enfold me –
Nor many-gabled Abbotsford, so stately and so still;
For I'll hasten to the vision
Of a valley fair, Elysian,
And gaze on Scotland's Eden from the spur of Gala Hill.
Excerpt from The Borderland by Roger Quin.
Read the full poem and a small selection of others here

 Galashiels is one of the largest towns in the Scottish Borders with excellent travel and retail facilities but it maintains its rural character. Learn more about Galashiels here and see more pictures of our area here.
  SEStran is proud to support the Scottish Borders Walking Festival once again in 2015. Read more here.